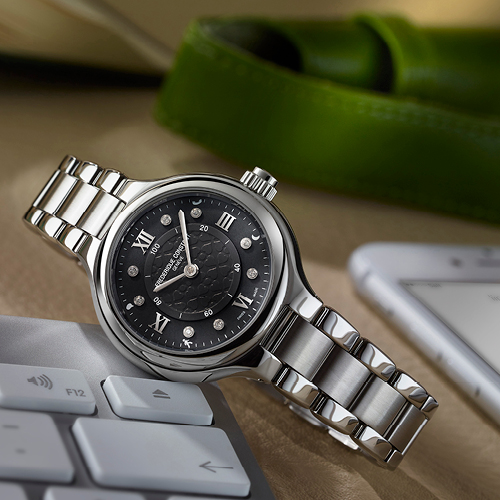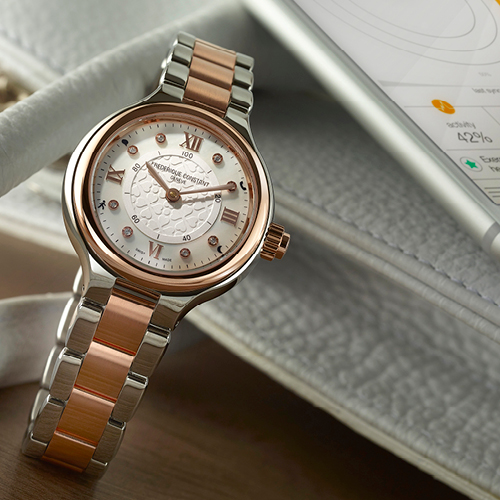 As a brand deeply involved in Charity for many years, FREDERIQUE CONSTANT is delighted to present Oscar®-winning actress and philanthropist Gwyneth Paltrow as its new global Charity Brand Ambassador. Her natural and classical beauty, inspirational involvement in Charity and undisputable charisma make her the perfect match for our independent and family-owned Swiss watch brand.
Since 2004, Frederique Constant has engaged in supporting causes, with $50 donated for each watch sold from the Ladies Collection to various charities. These charities include those related to the heart, children and women. FREDERIQUE CONSTANT's slogan is "Live your passion", and the brand does. Passion definitely shows through its craftsmanship, as well as its engagement toward charity causes.
Oscar®-winning actress Gwyneth Paltrow is one of the Hollywood's most philanthropic women, making a significant difference in her chosen causes every day. With her incredible philanthropic work and her personal commitment to fostering change, Gwyneth Paltrow becomes the new global Charity Ambassadress of FREDERIQUE CONSTANT on March 1st, 2016, directly supporting the educational projects of the "DonorsChoose" organization, involved in supporting education for children. The brand new Charity advertising campaign, shot by famous Tom Munro, directing GWYNETH PALTROW in a positive and joyful expression, promoting and inviting people to support the DonorsChoose.
"I am very proud to be Ambassador of the Frederique Constant Charity campaign. I think Frederique Constant is a wonderful company and we are well aligned in our passion for Charity and giving back. It's amazing to be able to work with a company with a strong value system," said GWYNETH PALTROW. 
ALETTA STAS, Board Executive and co-founder of FREDERIQUE CONSTANT said: "We are very happy and honored to have GWYNETH PALTROW as our new Charity ambassador. Thanks to her and to our brand's engagement, we will be able to improve the lives of many children. By purchasing one of the latest models of our Ladies collection, our consumers will not only feel the joy of having a beautiful timepiece on their wrist; they will also help people who need it the most."
New Classics Delight Collection
The new Frederique Constant Delight Collection has been designed with the perfect combination of elegance, form, and slenderness, its irresistible cocktail representing the apex in feminine style. From the wonderfully slim case, to the slender hands, everything about this design underlines the Frederique Constant philosophy of accessible luxury.
As following the precedent set by Frederique Constant, the Delight Automatic Collection supports the charitable cause of the Frederique Constant Foundation, with each watch sold contributing $50 to directly support innovative, impactful and lasting charities organisations around the world, helping women and children in particular. Since 2004, Frederique Constant has sponsored many charity events such as « Global Gift » Galas and Variety's « Power of Women ». By purchasing one of the latest models of our Delight collection, one will strive to foster positive change and enable people to live a meaningful and fulfilling life in a more equitable and safer environment.
Beautiful Femininity
From the first touch, one is drawn in by the way the Delight's links silently glide over the wrist, and the serenity of its classical dial.  With luxurious two-tone colour ways and two dial options available, the Delight has been crafted to fit the owner, its presence perfectly complimenting the art of haute-joaillerie.
Assembled by hand at the Frederique Constant manufacture in Switzerland, the Delight Automatic is powered by the precise and reliable FC-306 automatic calibre.
This thin movement beats at a frequency of 4 Hz (28'800 alt/h) and has a 42-hour power reserve. The 25 jewels and the oscillating weight are revealed through the sapphire case back. As the hands sweep smoothly around the dial, you can rest assured that every component has been treated with care, crafted only by the most experienced Swiss watchmakers. Luxurious and impeccable, inside, and out.
About Gwyneth Paltrow
Oscar®-winning actress Gwyneth Paltrow, whose 1998 turn in SHAKESPEARE IN LOVE garnered her Best Actress honours at the Golden Globes®, Screen Actors Guild Awards®, and Academy Awards®, is also a decorated author and singer. In 2011, she won an Emmy® for Guest Actress in a Comedy series for playing substitute teacher Holly Holiday on Glee, and her song, "Coming Home," from the soundtrack for COUNTRY STRONG, was nominated for an Oscar® (the album went gold). In addition, Paltrow has authored two New York Times Best Selling cookbooks, My Father's Daughter (2011) and It's All Good (2013)—the latter hit #1.  She also co-wrote Spain, A Culinary Road Trip with acclaimed chef Mario Batali after their PBS documentary, "Spain…on the Road Again," which was about Spanish food and culture, aired. In 2008, Paltrow launched goop, a brand devoted to making every choice count, where food, shopping, and mindfulness collide: In particular, goop has gained acclaim for its focus on health, wellness, and clean eating, as well as its city guides, an insider's perspective on the very best places to eat, shop, and stay in the world's most compelling destinations. Other notable film credits include PROOF (for which she received a Golden Globe® nomination), Wes Anderson's THE ROYAL TENENBAUMS, Anthony Minghella's THE TALENTED MR. RIPLEY, David Fincher's SEVEN, the Farrelly brothers' SHALLOW HAL, Alfonso Cuarón's GREAT EXPECTATIONS, Douglas McGrath's EMMA, and SLIDING DOORS. Recently, Paltrow has appeared in Marvel's IRON MAN franchise. Gwyneth's next cookbook, It's All Easy will be released in April 2016.
About Donors Choose
Founded in 2000, DonorsChoose.org makes it easy for anyone to help a classroom in need.  Teachers at 70% of all the public schools in America have created project requests, and more than 2 million people have donated $398 million to projects that inspire them. Over 17,000,000 students—most from low-income communities, and many in disaster-stricken areas—have received books, art supplies, field trips, technology, and other resources that they need to learn.
Visit www.donorschoose.org/intro to hear Oprah Winfrey and Stephen Colbert tell the DonorsChoose.org story.
About Tom Munro
Tom Munro is a noted fashion and celebrity photographer.  English by birth, Tom moved to New York in 1990, majoring in photography at Parsons School of Design and going on to serve a 3-year apprenticeship with arguably the world's most respected fashion photographer, Steven Meisel.  During his 18-year career Tom has contributed to some of the world's most prestigious magazine publications including Vanity Fair, V Magazine, US Vogue, Italian Vogue, L'Uomo Vogue, Glamour US, British GQ and Allure.